(500) Days of Summer Bench – Angels Knoll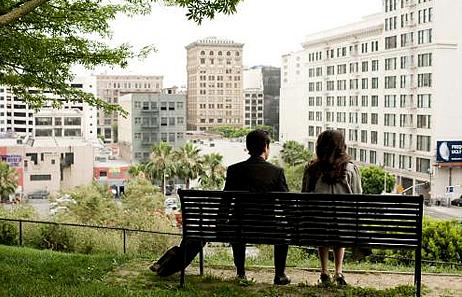 Hang on for a minute...we're trying to find some more stories you might like.
If you're a Zooey Deschanel or Joseph Gordon-Levitt fan, take a Friday afternoon to visit Angels Knoll in Downtown LA — a park which is home to Tom Hansen's (Joseph Gordon-Levitt's) favorite bench from the quirky, popular film (500) Days of Summer.
Located atop a steep hill, this little park is certainly worth the climb.  It's elevation separates the visitor from the sounds of the bustling traffic below, and the park provides a sense of serenity amidst the Los Angeles cityscape.  There are a number of benches scattered within the park where everyone ranging from business people to tourists come to enjoy a picnic lunch on a brisk summer day. The (500) Days of Summer bench is located at the center edge of the park and contains a plaque honoring the filming of the movie.

For fans of the movie, the thrill of sitting on the exact bench where the two stars sat and looking at the precise collection of buildings from the movie is indescribable! It is almost as if you are looking through the eyes of Tom Hansen and Summer Finn (Zooey Deschanel) as they begin their complicated relationship.  Besides this unforgettable experience, when watching the movie again with friends or family, you will now be able to say, "I got to sit on that bench!"
Even if you aren't a (500) Days of Summer fan, Angels Knoll is still a great place to visit for lunch with a friend and is certainly a pleasant way to spend the afternoon if you're passing through Downtown LA.