5 Things You May Not Know About Cesar Chavez
Hang on for a minute...we're trying to find some more stories you might like.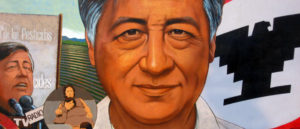 Cesar Chavez was an American labor leader and civil rights activist who co-founded the National Farm Workers Association in 1962. Chavez dedicated his life to improving working conditions, pay, and treatment for farm workers.
1. He inspired Obama's "Yes, We Can" line
In 1972 Chavez participated in a 25 day fast for the United Farm Workers of America union. He coined the slogan "Si, se puede" which translates to "Yes, it can be done". It has become the official motto for the United Farm Workers of America union and a rally cry of Latino civil rights. In 2008 it inspired President Obama's campaign phrase "yes, we can."
2. Chavez attended 30 different schools before 8th grade
Chavez's family moved around a lot when he was young, resulting in him changing schools 38 times. In the end, he had to drop out to help his parents support their family.
3. A U.S. Navy Cargo Ship Is Named After Him
Lewis and Clark-class cargo ships are named after "American pioneers and visionaries", along with being a union leader and labor organizer Chavez spent two years in the U.S. Navy. The USNS Cesar Chavez debuted in 2011.
4. Chavez Turned Down A Job From JFK
In 1962, President John F. Kennedy offered to make Chavez the head of the Peace Corps for part of Latin America, Chavez turned down the offer. Chavez continued to organize farm workers. Later that year he co-founded the National Farm Workers Association with Huerta.
5. He Had A Lot Of Fans
Cesar died in his sleep on April 23, 1993. Over 50,000 people attended his funeral service.