Was Jackson Pollock in the Kitchen?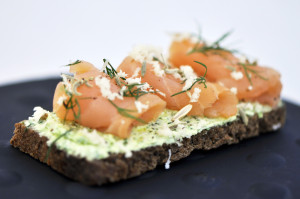 Imagine strolling into the Smithsonian Museum of American Art – the church of all priceless artistic wonders – and being able to eat everything you see. Take a greedy bite of a delectable Jackson Pollock painting. Scoop up an irresistible Harriet Hosmer sculpture onto your spoon. Let a Georgia O'Keeffe flower portrait melt in your mouth like a fine, sultry piece of dark chocolate.
Now, envision yourself walking into Picca.
There's no difference. 
Dinner at Picca is not a culinary transportation to Peru, but the atmosphere
certainly does not disappoint. Looming right over West Pico Boulevard in Beverly Hills, the restaurant's black and crimson-colored presence is unmissable. Inside, the vibe is fresh and the decor is stylishly modern, with richly wooded high top tables, low-hanging lights, subway tile and scribbling all over the blackboard walls. Picca's cool, youthful ambiance is a constant reminder that you are out on the town in one of the trendiest cities in the world.
Since Picca celebrates family-style serving with small portioned-meals, make sure to come with a large group and have your wallet ready – you will be ordering a lot. To start off, try the unagi. Don't let the freshwater eels chase you away; baked in an avocado mousse with green onions, their origin will be unrecognizable to your tongue. For smoked salmon lovers, the ora king talmon tartare (cooked with hot mustard, green olive and satsuma mandarin) will be your new delectable obsession.
In the ceviche section, the crocante and the carretilla are especially impressive. The crocante is a gold mine of crispy, flaky culinary goodness, and the carretilla (a dish of grilled octopus, black olives and chifles) is delightfully tangy enough to order twice.
For meat aficionados, you may just end up selling your soul to the anticucho corazon. Juicy, succulent, tender and moist, these steak skewers (doused in homemade rocoto-walnut pesto) will be the catalysts of your food coma – and you're not even halfway through the menu yet.
The salt-roast carrots, ingeniously cooked with black garlic and coconut, leave an aftertaste more unforgettably vibrant than their presentation. The puplo, a dish consisting of twice-fried potatoes, serrano sauce and rocoto rustico, is similarly almost too gorgeous to be consumed. End the addictive night on a good note with the Japanese cheesecake, served with a side of grilled pineapples, syrup and guilt.
Picca calls their food "modern Peruvian cuisine with a Japanese flair", but I like to call it "modern Peruvian cuisine with a flair of dear-God-what-is-that-thing-on-my-fork?". Oddly enough, that's the most infatuating thing about it. Once you're willing to diminish everything and anything you think you know about "normal food", the experience at Picca will swallow and spit you out a culinary connoisseur. You'll learn to appreciate the creativity of the dishes in ways you never thought you could. You'll be so adventurous that your taste buds will be skydiving by the time you leave the restaurant. You'll be more open to the unknown. You'll be changed.
But most of all, in the wake of all these dishes that are hardly discernible from works of art, you'll never stop wondering –
Was Jackson Pollock in the kitchen? 
PICCA menu: http://www.piccaperu.com/menu/
9575 W. Pico Blvd., Beverly Hills | (310) 277-0133 | piccaperu.com | Mon.-Thurs., 6–11 p.m.; Fri.-Sat., 6 p.m.–1 a.m. | Full bar | Valet parking | Starters $7-$12; causa sushi $5-$7; ceviches $9-$16;anticuchos $6-$12; main courses $9-$16 (way more for specials); desserts $7
More Reviews on PICCA:
http://www.laweekly.com/restaurants/jonathan-gold-reviews-picca-2171960
http://articles.latimes.com/2011/sep/22/food/la-fo-0922-review-20110922