The 16th annual Mira Costa High School Media Art opening reception will take place Friday, April 22 from 5-7 pm at the Manhattan Beach Art Center.
This art show is a way for students to show their art to the community, not just to lunch-goers on campus. Art created by Costa students of all grades covers the walls. A ceramic piece of hairy legs and a photo-like painting of Coco Chanel is among many of the pieces that are sure to catch your eye.
"It's a really good opportunity to show what Costa can do with the visual arts to the rest of the community because for once it's at a place that's not just at our school." says art and ceramics teacher Ms. Dixon.
Most art shows are featured in room 60 at lunch, however, many students don't come or don't even know that it's there. The All Media Art show is a way for students' art to be shown to a broader audience.
"Just at Costa the only people that really see it are the students and not that many people come, whereas this art show is really big so a lot of people come and there's a whole opening night and a lot of the community comes out to see it too which is really neat because just having a gallery at lunch makes it a lot harder for people to come and see your stuff." says senior and ceramics student Hana Rothner.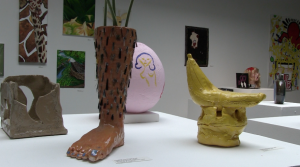 All of the creations in the exhibit falls under six categories: mixed media, drawing, photography, sculpture, ceramics, and painting. For each award, there will be a first and second place award with a cash prize. Awards will also be handed out for overall best of show.
Art from students of all levels is featured in the gallery. In order to have their work in the show, students only had to submit it to art teachers, Ms. Martin and Ms. Dixon. Although the process to feature your art in the show, the quality of each piece is extremely high.
For someone who had never seen art done by Costa students, I was extremely impressed. Each piece was  very detailed. The art is able to catch your eye and keep your attention.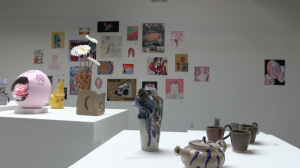 Peggy Zask, a retired art and ceramics teacher, will be one of the judges for the show. Peggy owns her own studio, called Zask Studios, located in San Pedro, California.
Doors open at 5 p.m. and awards will begin around 6:15. The overall reception will finish at 7, which gives enough time to make the 7:30 premiere of the Mira Costa Drama Department's production of The Addams Family.
The Exhibit will stay open until April 30th.