Top 10 LA Sports Stories of 2012
Hang on for a minute...we're trying to find some more stories you might like.
 Los Angeles Kings win first Stanley Cup in franchise's history
Accomplished many playoff feats: The first eighth seed to win a Stanley Cup, and first eighth seed to defeat the first, second and third seeds in the Western Conference. Their magnificent playoff run created a buzz around LA Kings hockey for the first time since Wayne Gretzky.
2. Lakers trade for Dwight Howard
The Lakers trade for Dwight Howard rocked the sports world. The best center in the NBA made his move out west to join forces with Kobe Bryant, Pau Gasol, and Steve Nash to make up a stacked starting Laker lineup, instantly making them serious title contenders.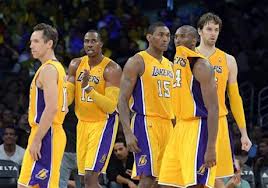 3. Lakers Struggles
(0-8) 2012-2013 preseason record, Mike Brown is fired, Mike D'Antoni hired over Phil Jackson, still no resolution in sight for the team that came into the season with Championship expectations.
4. Clippers make playoff appearance 
The clippers made it to the playoffs for the fifth time since 1976, behind the leader of "Lob City", Chris Paul.
5. Dodgers trade for Adrian Gonzalez, Josh Beckett, Carl Crawford, and Nick Punto. 
The Dodgers took on $260 million in contracts in the trade. It was the highlight of the many acquisitions made by the Dodgers; they also made moves for Shane Victorino, Hanley Ramirez and Brandon League.
6. USC football ranked #1 at beginning of season
Coming off a 2 year bowl ban, the Trojans started the season number 1, behind the return of Sr quarterback Matt Barkley, and top receivers Marquis Lee and Robert Woods.
7. Magic Johnson and company take over ownership of the Los Angeles Dodgers 
Stan Kasten and Magic Johnson buy the Dodgers for 2 billion dollars just when it looked like Frank McCourt would kill the franchise.
8. Jim Mora appointed UCLA head coach, major improvement
In his first year as head coach of the Bruin Jim Mora took his team to a 9-5 (6-3) record after their 6-8 (5-4) record the year before. They finished this season ranked 17th, while also making it to the PAC-12 Championship game, and defeating rival USC.
9. LA Galaxy wins Championship in David Beckham's final game. 
Won back to back championships as David Beckham put an end to his historic year.
10. Marqise Lee puts up major numbers in sophomore season
Averaging 14.6 yards per reception, while tallying 1721 yards, on 118 receptions and 14 TDs during the season. Lee finished 4th in Heisman voting this season.
2012 LA Sports MVP
Jonathan Quick
Led the LA Kings to their first Stanley Cup, putting up tremendous numbers in goal during the season and throughout the playoffs. He also earned the Conn Smythe Trophy (MVP in the Playoffs).