Costa alum Patrick Becker reflects on his Mustang Morning News experience and how the program helped prepare him for the professional world. Mr. Becker graduated from Costa in 2004 and went on to receive a B.A. in Communication at USC.
Photo courtesy: Patrick Becker
How did your experience as a Mustang Morning News staff member help you in your major?
I was one of four Producer/Directors at MMN during my time there. That allowed me to be years ahead of many other people in college thanks to what I learned at the Mustang Morning News. While most undergrads were going through the "core," learning how to use a camera and edit, I was showing others what to do. USC also does a live newscast every night, so having the experience of putting on a LIVE broadcast is invaluable – since that's as real as it gets. I went on to be a producer and director for USC's newscast (Annenberg TV News).
What is your current profession and what does it entail?
Currently I am a news producer at WABC in New York. I generally work the morning shows but have produced just about every show here. I'm responsible for choosing my reporters' assignments, finding and writing stories, sometimes editing those stories, creating the rundown, and finally boothing the show from the control room. At the very basic level, it's exactly the same as what I did at Costa. We prep stories, we write them, we put the show on the air, and then we breathe a collective sigh of relief. We just have lots more toys to play with to get that final product on the air.
What is the most embarrassing thing that happened to you on the Mustang Morning News staff?
Honestly the most embarrassing thing for me was anchoring the one show I did. I don't do well in front of the camera.
What was the most rewarding experience for you?
The most rewarding experience at MMN was a real-life lesson in First Amendment, Freedom of the Press rights. We sent a reporter and photographer to cover a protest that broke out during student body elections. Some students at the assembly in the quad started doing some things that were regrettable and they were ultimately suspended. Since we had a camera at the scene, the administration wanted to take our raw tapes to review and potentially use as evidence, and also to prevent us from airing the material. I even remember a VP coming into the studio to try and forcibly remove a tape which we had already dubbed and hidden away. Ultimately, under the direction of Mr Hernandez and some lawyers, we fought back and did not give up the tapes, despite the administration's best efforts. It was very enlightening at the time.. and a situation we run into frequently in the real world when video cameras are rolling.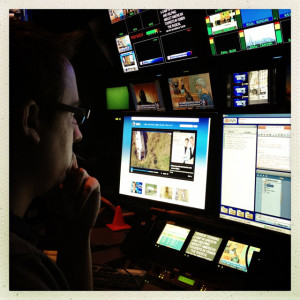 What is your favorite memory of the Mustang Morning News?
As for my favorite memory… counting down the seconds every time the pledge of allegiance finished in home room, until we went on the air. The rush of live TV never goes away.
What advice would you give to current broadcast journalism students?
Advice for current students: Learn to do it all. Even if you've wanted to be an anchor your whole life, spend some time producing, shooting, editing, etc. The more you know how to do, the easier it will be to work toward what you want. Oh, and regardless of what you want to do… write write write! If you can write good broadcast copy and scripts, you'll be all set. (Buy Mervin Block's book on Broadcast Writing. You won't regret it.)
Having the knowledge of working professionally in broadcast journalism, what do you wish you would have done differently in high school to prepare?
Speaking of… If I had to do it all over again, writing would be the #1 thing I would focus on in High School. Turns out I really didn't like English classes very much so I was steered more toward the technology/production side of things. But I can absolutely say that newswriting is the #1 skill young journalists should be working on. (The rest of the skills will come later.)
How would you sum up your experience in broadcast journalism in one sentence?
"The speed of communications is wondrous to behold. It is also true that speed can multiply the distribution of information that we know to be untrue." Murrow (1964) and true now more than ever.

What would you say to someone interested in joining broadcast journalism at Costa?
If you're interested in broadcast journalism at Costa, go for it! You'll quickly discover whether you love it or hate it. Rarely are people somewhere in between. And once you're hooked, it's hard to let it go!
Find out how you can join the Mustang Morning News Staff
Read other interviews with Mustang Morning News alumni
Follow Patrick Becker on Twitter: @PMBonTV
Follow the Mustang Morning News on Twitter: @miracostanews