Costa alum Dorothy Le reflects on her Mustang Morning News experience and how the program helped prepare her for the professional world. Ms. Le graduated from Costa in 2002 and earned a Bachelors of Science in Environmental Science at UCLA. She also earned a Masters of City and Regional Planning at Rutgers University.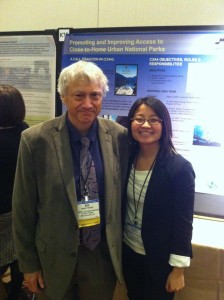 How did your experience as a Mustang Morning News staff member help you in your major?
My experience as a Mustang Morning News staff member helped me become more creative, helped make me a better writer, helped me express myself in another way, other than pure academics or sports. It highlighted another side to me, which I did not even know I had at the time, which was an interest in film, media and the arts. It helped me become more open and curious about the world, which was very beneficial in college and beyond. It took me many, many years for me to realize the impact MMN had on me, but with anything worth doing, sometimes the benefits are not very obvious at first, and only unfold with time.
What is your current profession and what does it entail?
I am currently an urban planner, focusing on transportation, mostly non-motorized (bicycling and walking). This entails learning about cities and how better- designed streets, bike ways, and sidewalks can support all modes of travel, specifically non-auto ways to travel. A lot of what I do is observe traffic patterns and suggest ways to improve upon current systems, but also interact with community members and read/learn about past efforts. Currently, I have a one-year appointment with the National Park Service in New York to help improve a specific 3.5 mile bikeway between the Staten Island Ferry and the National Park Unit in Staten Island and also to help other urban National Parks across the country improve the ways they help people get to their destinations without using a car.
How did your experience as a Mustang Morning News staff member help you in your career?
I think my experience with Mustang Morning News was a risk, a challenge that I decided to take. It was a risk because it did not specifically relate to anything I thought I wanted to do in my future, so it did not seem "practical" in many ways.
In high school, I had a lot of pressure coming from my parents and my own self-made pressure to conform in certain ways to some "typical" linear path of development. And even though MMN did not fit exactly into that linear path of APs and sports, I was naturally just interested in it for the sake of it, and I decided to take a leap and do it. It was one of the best decisions I made. Even though I am not in the film, television or media industry at all, I know that I grew a lot from being a part of MMN and it played a big part in shaping who I am today. Plus, it was fun!
What is the most embarrassing thing that happened to you on the Mustang Morning News staff?
Since I produced video packages for the show, everything was edited, so I do not think anything embarrassing happened to me–on tape.
What was the most rewarding experience for you?
I still reminisce about the piece I did on movie theatres of Los Angeles. In two days, my partner Alex Paris and I traversed all across LA County to review the most noteworthy theatres of the day, including the Egyptian Theater, El Capitan, and the Cinerama Dome (before it re-opened!) in Hollywood, the Aero Theatre in Santa Monica, the Pacific Crest (now Majestic Crest) and Bruin Theatres in Westwood, and Vineland Theatre (one of the last drive-in theaters in Southern California!). I think I was insane or something. Either way, we did it, and we put together a pretty nifty piece on movie theatres in LA.
What is your favorite memory of the Mustang Morning News?
When we all got together as a class for meetings and for our final group picture. Usually we were out and about fulfilling our various roles for the show, so we wouldn't always be all together during class. I think Mr. Hernandez still has that group picture somewhere!
What advice would you give to current broadcast journalism students?
Challenge yourselves, don't conform, nothing worth doing is easy all the time, but it should be fun most of the time.
How would you sum up your experience in broadcast journalism in one sentence?
One of the most  enjoyable and overall rewarding experiences I had at Costa, and no matter what you may think, Mr. Hernandez rocks.
What would you say to someone interested in joining broadcast journalism at Costa?
Take a leap of faith and do it! Say yes! You won't regret it.
Find out how you can join the Mustang Morning News Staff
Read other interviews with Mustang Morning News alumni