Update (5/31/16): Alicia graduated from Hofstra and is now a producer for NBC.
Costa alum Alicia Hastey reflects on her Mustang Morning News experience and how the program helped prepare her to lead a weekly show at the collegiate level. Ms. Hastey graduated from Costa in 2010 and is currently majoring in Video/Television Production with minors in Political Science and Journalism at Hofstra University.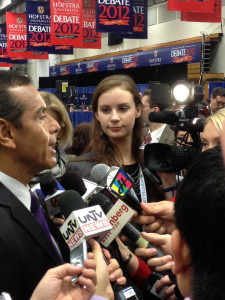 How has your experience as a Mustang Morning News staff member helped you in your major?
My four years with Mr. Hernandez and my two as producer of the Mustang Morning News prepared me so well for my major that I was somewhat bored in early college classes. It was shocking to me how much I knew compared to many of my college classmates. Not only was I ahead when it came to camera and editing techniques, but my time on the MMN taught me how to think like a television producer, and in many situations, that was just as valuable as being able to edit a package or shoot an interview.
I was ahead of many of my peers who didn't know the rule of thirds, didn't know what a switcher was and didn't know how to coil an audio cable. Remember coiling all those audio cables? Well, that actually came in handy and put me automatically ahead of many of the other students who were still trying to figure out which end of the cable went into the camera.
What is your current role and what does it entail?
I am currently a student producer at Hofstra University. I produce an extra curricular show called Hofstra Today, which is part of the HEAT (Hofstra Entertainment Access Television) Network. Hofstra Today is a weekly 30-minute news broadcast, similar to the Today Show in that we cover everything from fashion to politics to Hofstra sports. As producer of this show, it is my job to work with our Production Manager, Technical Manager and other staff to ensure that we have the crew, cast and content we need for every show. Along with these hardworking people, I come up with ideas for segments and work on getting interviews with students, faculty and community members. It is also my job to work with university relations, the faculty and staff in the School of Communication, as well as the General Manager of HEAT, to reserve equipment and studio space, request funding and create a budget. Each week I learn something new, and do something I've never done before, so there really is a never-ending list of things my job entails.
In the fall, my job expanded to reporter, producer and editor as we went into overdrive to cover the second Presidential Debate that took place on my university's campus. Gearing up for this, I had to apply for press credentials, compile a team, work with university relations and plan far in advance to be able to balance the work we all would have to do on this one event with the continuance of our regular show. On the day of the debate, a group of three of us, two reporter/producers and one videographer, roamed around campus covering events, live broadcasts and protests. Moving into the media filing center, the home of the entire mass media as well as the location where all the politicians came to spin the debate for their specific candidate, we interviewed anchors, producers, students and, of course, politicians. This experience was invaluable, but many of the skills I learned about field production came from the MMN and I would not have had nearly as successful a time if it weren't for my time in Broadcast Journalism at Mira Costa.
How did your experience as a Mustang Morning News staff member help you with this role?
My experience as a producer of the Mustang Morning News had a direct influence on my current role as producer. If not for the skills I learned at Mira Costa, I would never have had the confidence to go to a production of Hofstra Today, let alone offer an idea or volunteer to work on a package. The skills I learned at the MMN literally make it possible for me to put on a show each week, whether it's last minute editing, writing questions for an interview or dealing with a cancellation, interruption, malfunction or anything else.  Everything I do now as a producer, I did for the first time for the MMN.
In the world I work in now, it is unusual to find someone who is both experienced on the technical television side and the journalism/producing side.  Straddling that fence gives me an advantage over my competitors, and when it comes to producing Hofstra Today. I decided to do both production and journalism majors because of the MMN and could not imagine ever doing just one or the other. What I learned in Broadcast Journalism is so fundamental to what I do everyday that it would be impossible for me to function without that knowledge and experience.
What is the most embarrassing thing that happened to you on the Mustang Morning News staff?
There are so many embarrassing memories… but the one that wins is when the staff ordered a Valentine's Day singing telegram for me from my co-producer and proceeded to record the entire incident. I think I'm at that point where I can look back and laugh… maybe I need a few more years.
What was the most rewarding experience for you?
Probably the most rewarding experiences for me were attending the NSPA/JEA conventions. I attended three in all: those held in Los Angeles, St. Louis and Washington D.C. In addition to winning awards , these trips were extremely fun experiences. Spending a solid five or six days with the people on staff was so hilarious and seeing new places with them was a memorable experience. Going to the dances at each of these conventions offered a glimpse into exactly how weird all of us were, and we really enjoyed showing the kids from other schools across the country how the kids from LA did it. It was also great to be able to leave those conventions with certificates showing that we worked hard and that we were doing a good job every week.
What is your favorite memory of the Mustang Morning News?
My favorite memory is of making Homecoming Videos. I worked on three of them, and each one was a really fun experience. Especially my Junior and Senior year when we put so much time into them, seeing them on the big screen was really rewarding and basically just pretty cool. I'll definitely never forget coming up with those ridiculous ideas and actually getting a bunch of people to do them while we rolled a camera!
What advice would you give to current broadcast journalism students?
The main advice I would give to anyone interested in working in television, especially in news is that you have to know how to do everything. Today, there is no room in the budget to have three people working on a single package. That means that the only people who get hired are the ones who can shoot, edit and write, and do all three well. The MMN does a good job at teaching all three and rotating through to make sure everyone learns how to do things, but I would advise everyone that they hone skills in addition to those three.  That way they have four things they can do well and can really stand out from all of the other applicants in a stack of resumes. Similarly, knowing how to write for the web, create basic websites/blogs and create video for the web are skills that anyone trying to get a job in this industry should be expert at.
How would you sum up your experience in broadcast journalism in one sentence?
Broadcast Journalism was an invaluable experience that set me up with many of the required skills to do exactly what I want in my future career.
What would you say to someone interested in joining broadcast journalism at Costa?
If you are in any way interested in television, journalism and of course broadcast journalism, join the Mustang Morning News. It's easy to have fun in Broadcast Journalism, and it is easy to learn more than you could have imagined. Try it out, if you don't like it at least you made some new friends and learned a little bit about how the news works. If you do like it, you've found something that will influence you for the rest of your life.
Find out how you can join the Mustang Morning News Staff