Now we all know that the Mustang Morning News puts on a show twice a week for the whole school to see, but many may not know about the variety of extra content that is updated daily by the MMN staff. So in an effort to to help you understand the whole variety of extra content that we offer, I have come up with a guide to help you settle your mind.
Facebook
This is probably one of our central social media focuses. On the Mustang Morning News facebook page, we frequently update it with anything from student polls about stories on the show to sneak peaks to stories that haven't even been aired yet. It's one of the easiest ways to keep in touch with anything that happens after the show, also be sure to press that "like" button so you don't miss out on a single post.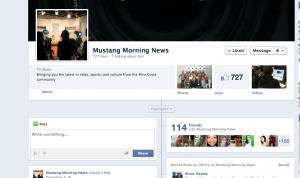 Twitter
Looking for the latest sports scores at one of the Costa games? What about an announcement you missed from the bulletin? Or maybe you just want to be clued in on the latest and greatest events that are going on in Manhattan Beach. Well, lucky for you not only does the MMN have a twitter (@miracostanews) but so does the entire staff. Our twitters are updated daily with the latest just so you can always be informed, and if there is an important school event or game that you want to know about, you know we will be live tweeting from the event just for you.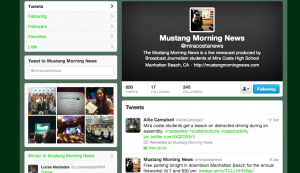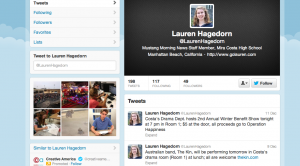 Blogs
One thing many don't know about our website is that we actually have content on here other than our show and the stories within it. This very post is apart of our extra content blogs.
Our blogs are organized into five categories:
1. #onlyinLA – Here we inform you about the best spots or attractions that make our area so unique.
2. Hunger Games – This contains anything from recipes for delicious food, to restaurant reviews to make sure you're going to the best.
3. The Beat – Music is always changing and new artists and genres are constantly emerging. Here we do our best to expose you to new music surroundings that you might not have heard about before.
4. Cheap Dates – Wanna have a great time but don't have the money for something extravagant? Well this is the category for you. These blogs cover a variety of fun activities for dates that won't kill your wallet.
5. Inspect Gadget – Here is the tech side of our website. In Inspector Gadget we will show anything from reviews on the latest tech specs to the latest updates that you need to know about.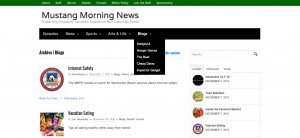 Instagram
Finally, on our instagram we give you a behind the scenes look of our staff beyond the TV screen and some quick snap shots of something about our latest story. We are always updating it so be sure to check it frequently for the latest pics from our staff.