Key limes (citrus aurantiifolia) originated from the Florida Keys, particularly Key West. Once abundant to the Keys, these limes are now difficult to find because of  Hurricane Alma which struck the islands in 1926 and wiped out the indigenous plant. Key limes have been replaced by the more common Persian lime. They differentiate themselves from the Persian limes with their thin skin, making it easier for them to perish, and their distinct subtlety.
While visiting the Keys, I wanted to taste all things Key lime.
Sorbet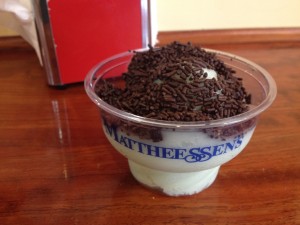 The Key lime sorbet was just what I needed after walking the streets of Key West on this uncomfortably hot day.  It was zesty, cool, and refreshing.  My plastic spoon cut through the smooth icy treat.  The thin sorbet reminded me of a snow cone and melted in my mouth.  The chocolate sprinkles decorating the sorbet mellowed the tartness and added a crunch.
Cookies
I don't know how the bakers packed the grand flavor of a Key lime pie into a one-inch cookie.  The crust was crunchy and crisp, while the Key lime flavored filling was creamy.  The cookie, as a whole, tasted strongly of citrus, but stayed sweet, not tart.
Pie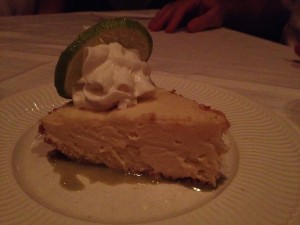 While in Key West, I stopped in a little Italian restaurant called Antonia's.  The elegant and quiet atmosphere accompanied by delicious flavorful food created my best dining experience on the island.  After finishing a fine Italian dinner, I enjoyed a slice of Key lime pie topped with pistachio sauce.  It tasted sweet with smooth and creamy texture.  The graham cracker crust was thin and soft, not crunchy like the cookie.  I wanted it to taste  more tart or zesty, but the pie just tasted sugary and fell short of my expectations.  The pistachio sauce didn't do anything for the pie.  It, too, tasted too sweet.  The lime on top added a tart finish.
The best piece of Key lime pie came from a small bakery called the Key Lime Pie Factory on Greene Street in Key West.  This slice tasted lighter, more like jello, and zestier than the last.  The graham cracker crust was thicker and crunchy.  The delicious tart filling tasted more like limes, not sugar.  With every bite, this pie zinged my tongue, fulfilling all of my expectations.
To take a look at Antonia's Italian restaurant click here.
To visit the Key Lime Pie Factory's website click here.