The holiday season in LA doesn't exactly have that traditional "Winter Wonderland" feeling. In sunny California, our Christmas cards involve more Santa hats on beaches than sleigh rides through snowfall.  I'm sure we all dream of getting that "white" Christmas, but we don't always have the time or the money to fly somewhere cold. That's why I've listed 5 of the most wintery places that can be found right here in Los Angeles.
1. Queen Mary's CHILL: 
The Queen Mary brings a whole lot of chill to the holiday season.  For only $45 you can enjoy the festivities at CHILL with ice skating, a Santa visit, an entire North Pole Village, and more! Be sure to head down before January 8th when it closes.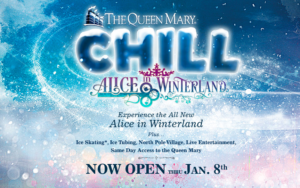 2. Grove: 
If you are looking for somewhere with that true Christmas feel, then the Grove is the place for you. Not only does snow cover the sidewalks, but the main road is strung with hundreds of beautiful lights. And lets not forget to mention the 110 foot tree, decorated all of the way to the tippy-top, that stands right in the middle of the square. You (and your furry friends, too!) can also stop by for a picture with Santa. While you're there, don't forget to check some shopping off of your to do list. With the abundance of stores located at the Grove, I promise you'll be able to find that perfect present for each and every one of your friends and family members.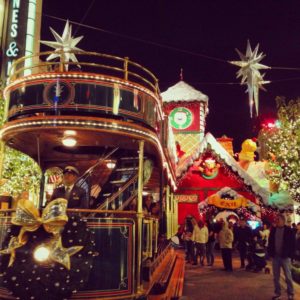 3. Los Angeles Zoo: 
When you think Christmas, do you think Dasher, Dancer, Prancer, and Vixen? Well, if you do, then you're in luck. The LA Zoo has all of Santa's reindeer at the Reindeer Romp. You can see them between 10am and 4pm up until January. And if you come for the reindeer, you should stay for the lights festival. Tons of twinkling lights cover the trees and paths. Enjoy the lights with family and friends while you see some of Santa's favorite animals.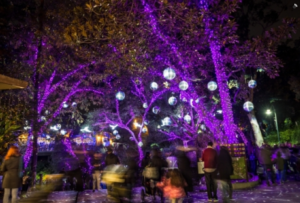 4. Santa's Village in Big Bear: 
Every Saturday and Sunday, all the way up until December 24th, you can visit Mr. and Mrs. Claus themselves at the Christmas Tree Lot in The Village of Big Bear Lake. If you're lucky you might even get some natural snow! Not only do you get catch a real Santa sighting, you also get to enjoy a road trip through a real white winter.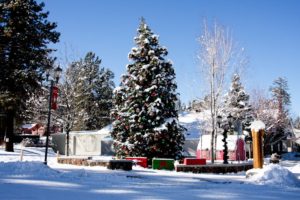 5. Downtown LA: 
Now I know Big Bear is a bit of a trek, so I thought I'd throw one in that's little closer to home. In Downtown LA, the Winter Holiday Festival has plenty of free activities for all ages. It is only open this weekend, Dec. 3-4, so go out and enjoy the festivities! Bring friends or family and enjoy the ice skating, sledding on the fresh snow, and pictures with Santa by his giant gingerbread house.