Top Phones for Christmas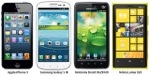 You get commercials about various things all throughout the holiday season. "Buy this car!" "Buy this gadget!" "Buy our decorations!" "Buy our food!" "Great deal, special sale, holiday cheer, spend more money, money money money"Tired yet? So am I. So I resolved to make a complete list of the newest smartphones to help everyone out. All of these are generally available for $200. ;
IPhone 5
So it seems apple finally ran out of new features to cram into their phone, and so they did what anyone would do after looking at HTCs latest line of electronic bricks: not only did they made the screen bigger, but they also marketed their bigger battery (that gives us 6% less charge than the 4S). However, that doesn't detract from the fact that it is extremely user-friendly. Probably the biggest thing it has going for it in the face of the competition like the Galaxy.
Operating System: iOS, Screen size 4″, Screen size 4, Battery Life 8 hrs/1700mAh, Rear Camera 8MP, Front Camera 720 p, RAM Memory 1 GB, Data 16/32/64 GB/Price (per memory) $199/$299/$399
Samsung Galaxy S3
Definitely the biggest competitor for the iPhone 5 so far. It's available on multiple carriers, has 4G LTE Capability, a good 5.4×2.8 inch shatterproof screen, and the same price as the iPhone 5, $200 for 16GB plan across the four major US networks. The tech blog cnet.com gave it a four out of five overall and it has about the same battery as the iPhone 5 overall, and twice as much RAM.
Operating System: Android 4.0, Screen size: 4.8″, Battery Life: 10 hrs/2100mAh, Rear Camera: 8MP, Front Camera: 2MP, RAM Memory: 2 GB, Data: 16/32 GB, Price (per memory): $199/$249
Droid Razr Maxx
It is definitely the best overall, a vast improvement over the battery of the HTC One X, and the processor is the same. It's pretty much all we've come to expect from a Droid smartphone. Good processor, good pictures, good-sized screen, twelve hour battery, and just a good all around phone.
Operating System: Android 4.0, Screen Size: 4.7″, Battery Life: 12hrs/2500mAh, Rear Camera: 8MP, Front Camera: 1.3MP, RAM Memory: 1 GB, Data: 16 GB, Price: $149
Nokia Lumia 920
The key to this phone is its amazing 8.7 mp camera, complete with dual flash. Literally a "camera phone." It is also the heaviest phone here and the battery is capable of 17 hours of talk time and web surfing. With the new Windows Phone 8 operating system, a huge 16 GB of RAM, and a massive 17 hour battery, surfing the web on your phone just got a lot easier.