It's December, which means that it's almost time for that one last exciting holiday of the year: Christmas! Spread the holiday joy and spirit by trying these simple, festive, and cute Christmas treats to pass out to friends or to snack on by the fire with a hot drink.
1. Chocolate-covered Pretzel Sticks
Ingredients: large pretzel sticks, white or milk chocolate chips, sprinkles or any toppings of your choice
First, put a favored amount of chocolate chips into a bowl. Place the bowl into the microwave and warm up until the chocolate has completely melted. Next, dip your pretzel sticks into the bowl of chocolate and make sure that at least half of it is covered in chocolate. Finally, put some sprinkles or crushed-up candies on the chocolate-dipped pretzel sticks. Place the finished products into the refrigerator either laid on a tray or held in a cup until the chocolate hardens. And there you go, a snack that looks as nice as it tastes.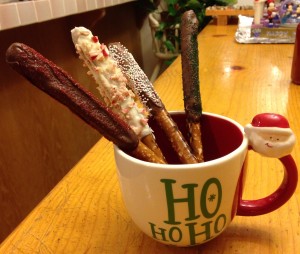 2. Oreo and Strawberry Santa Hats
Ingredients: strawberries, Oreo cookies, whipped cream
Place a couple of Oreo cookies on a plate. Put a small amount of whipped cream on each Oreo, just enough to cover the cookie's surface. Then place a strawberry that has its leaves cut off. Make sure that the strawberry is flat on the bottom and centered so it doesn't slide off the cookie. Finally, squeeze a very small amount of whipped cream on the tip of the strawberry to complete the Santa Clause hat. Now it's ready to be devoured!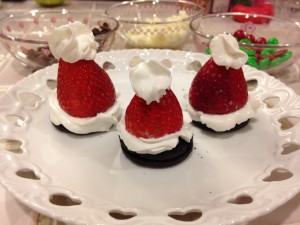 3. Reindeer Cookies
Ingredients: small pretzels, Nutter Butter cookies, frosting, red and green candies, candy canes, milk chocolate chips
Begin by placing several Nutter Butters on a plate. Grab some small pretzels and break them into halves to make the antlers of the reindeers. Stick each antler on each side between the cookie sandwich where the peanut butter is. Next, put two chocolate chips on the cookie with frosting to make the eyes. Then put a red or green candy in the middle of the cookie with also frosting to make the reindeer's nose. Remember that only one reindeer should have a red nose: Rudolph! Lastly, break off a small piece of candy cane into different shapes, and pick one piece to put on the cookie as the reindeer's mouth. And voila! You have made adorable reindeer cookies.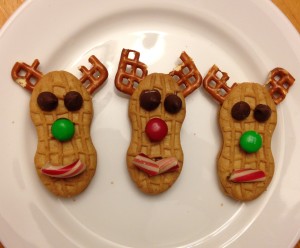 Enjoy these treats with friends and family while you decorate or just sit back and relax while watching holiday movies!