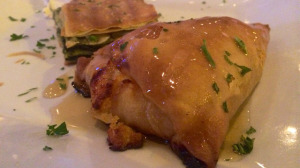 Stepping into Petro's Kafe in El Segundo is not at all like stepping into Greece. A quirky blend of industrial chic and rustic simplicity, the decor is mainly wood-based and wine-influenced, with scattered candles, wine barrels, and open garage doors serving as window understudies. However, after you've tasted their food, they might as well have flown you first class to Santorini.
For an appetizer, start off with Tzatziki, Eggplant Dip, Kafteri and Guacamole. The four sauces come with  toasted, olive-oil soaked pita bread that is just bland enough to bring out the distinctive flavor in each dip. If  you're just ordering one, get the Tzatziki sauce. It's the milky, succulent, tangy equivalent of a mid-life crisis  turned food coma; you will start to doubt how anything in your life has ever tasted edible without this  homemade dip.
For anyone with a high tolerance for spinach, the Spanakopita is your friend (for anyone without it, try mixing it with the yogurt-based dipping sauce that comes with the dish). Crisp, flaky and buttery with a faint salty-sweet aftertaste, the only negative of this dish is its stunted two-bite size that leaves you wondering if someone ate it already. The Keftethes includes a spinach, parsley and olive oil stuffed meatball braised in lamb juice and cooked so tender it cuts like butter, along with mashed potatoes that, while on the plainer side, explode with flavor when mixed with the Tzatziki sauce. In five words, this sauce makes anything better.
The Tyropita, filled with Greek cheese mousse and drizzled in honey, is like an edible honeymoon. The candied sweetness of the honey lasts for a second and then the two flavors divorce, leaving you with a bland, unpalatable dish. It just feels accidental when paired with the Spanakopita.
The menu is simple and straightforward, similar to the honest and attentive waiters who only vouch for the dishes they believe are the best. Several of them recommend their most popular signature wine, Red Blend, which is notable for its daring, memorable aftertaste.
The most challenging moment of being at Petro's Kafe is having to leave it. With its cozy, idyllic atmosphere and hearty, homemade Greek cuisine, it is a definite come-back-to destination. The check is returned quickly, there are post-dinner mints filled to the brim of a wine barrel, and the waiters will let you know if you've accidentally left your jacket on the table.
PETRO'S KAFE
Hours: 7-10 Mon-Thurs and Sunday; 7-11 on Fri and Sat
Price Range: Small dishes are $4-16. Entrees are $9-22
Phone: (310) 322.6200
Address: 131 West Grand Ave in El Segundo, CA 90245
Website: http://www.petrosrestaurant.com
For more reviews on Petro's Kafe:
http://www.dailybreeze.com/arts-and-entertainment/20140730/petros-kafe-in-el-segundo-offers-greek-cuisine-with-a-california-twist
http://www.easyreadernews.com/88688/petros-kafe-el-segundo-greek-compromises/