A bright star out of billions, the Milky Way's pleasant atmosphere is just like home's. When you land, you are immediately greeted by the enthusiastic owner, Leah Adler, who is also the highly respected filmmaker, Steven Spielberg's, mother.
When you take a look around, the front foyer is filled with all sorts of pictures of Spielberg with many other stars and memorabilia.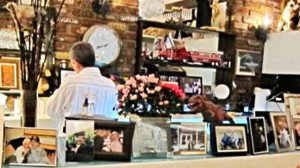 Mrs. Adler and I chatted for a while before getting seated at a comfy booth in the back corner. The restaurant is not very full, but housed a few other guests around the area. They are enjoying themselves while Mrs. Adler walks to each table to kibitz with each party. The waiters were just as kind as Mrs. Adler, and knew the menu backwards and forewords, eagerly answering any questions and ready to give an opinion on their favorite dish. Periodically, Mrs. Adler would come around and sit with each party, including ours, for a friendly chat. After the majority of us were finished eating, the waiter would come by and pick up the empty dishes, but wait to pick up the rest later. When I got up to use the restroom, the hallway was decorated like a museum, with posters of Spielberg's movies hanging on every inch of the wall.
Since Mrs. Adler is Jewish, I wasn't surprised that it was a kosher restaurant that offered internationally known kosher dishes and a wide assortment of seafood items. The menu included clever category names with many adjectives describing each meal that had reasonable prices ranging from $21-30. I ordered the popular Cheese Blintzes, who's delicate and crisp pancake shell held a rich, bubbly mountain of warm cream cheese, topped with chilled strawberry preserves. Other dishes I fortunately had the chance to try were savory cannelloni, traditional yet tasty gourmet potato pancakes, and their mixed seafood paella that was layered with succulent bits of fresh fish that melted in your mouth.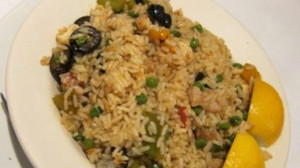 When I got up to leave, I was met at the door by Mrs. Adler. We had our final, cheerful chat for the night, and I left with the thought of coming back another time. Milky Way is a great place to go whether for lunch or dinner on any occasion, but although is welcome to all, its atmosphere better suits elder guests.
Milky Way is located at 9108 W Pico Blvd, Los Angeles. Their phone number is (310) 859-0004. Business hours are Sunday-Thursday: 11:30am-2:00pm, 5:30pm-8:00pm and Friday: 11:30am-1:30pm.   
Other reviews by Chicago Tribune and LATimes
And to learn more about kosher, check out Judaism 101