Last May I first encountered this palace in the clouds while stopping for a lunch break on my way to Palm Springs. I wasn't a fan of sushi then, and to be honest, I always used to just order avocado rolls. I'm always up for a challenge, and so when my uncle bet me that I wouldn't eat what he called "real" sushi I scoffed. I took the challenge. Now here I am, almost a year later, a frequent customer and eating sushi practically everyday.
Rated with two Michelin Stars in 2010, the highest in L.A., this penthouse palace reels in more than your average fish. 21 floors above L.A.'s Financial District, Takami Sushi & Robata towers above all other restaurants with an outdoor patio giving an 180 degree view of the city. With three kitchens specializing for different items on the menu, there is not one dish prepared without delicacy.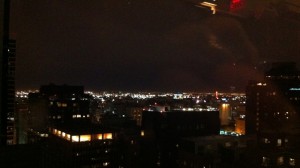 As I reached the door, I could already feel the upbeat music bouncing inside my chest. The host sat me at a low lying table, and placed a menu in front of me. While waiting, I glanced around and notice that it's dimly lit with people either standing close to the bar holding drinks, or sitting on the balcony that stretches about half a football field wide. Between the bar and the balcony lies an open space where the manager stands to watch over the restaurant and also where parties take place.
Our waiter, being as magnificent as his buttoned up collared shirt, asked if we have ever dined at Takami before, and if we haven't then he would tell us all about the restaurant and all the wonderful things it has to offer.
We started ordering. Edamame sprinkled lightly with salt, rice burnt till it was golden brown layered with spicy tuna and a topped with a slice of jalapeño like a cherry on top of ice cream, popcorn shrimp lathered in tempura and secret cream sauce, and best of all, the Takami Roll.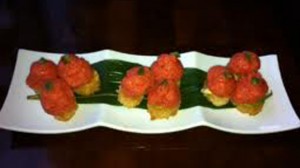 Sitting on a fresh slice of cucumber and wrapped in warm rice, the soft, fluffy spicy albacore and yellowtail is complemented with a creamy avocado and blanketed by a thin, silky like layer of pepper tuna. To add more valiant flavor, the roll is draped in the famous Takami sauce. I took a piece, plunged it in soy sauce until it was dripping and placed it in my mouth. The spiciness combined with the creaminess had an excellent taste, and to wash it all down was the fresh, wet slice of cucumber. It was delicious!
After we ate the main course, we ordered dessert which didn't happen to be quite as good as our sushi. So we asked for our check and went our own separate ways. I believe that the food and the service was one of the best I've ever had! This upbeat environment as well as the superb food definitely earned Takami its Michelin Stars. And it deserves it! I insist that you voyage out to try this mouth watering sushi!